Source: "14365 KILCOLMAN MIDDLE Map: 12" from Denis Power and Sheila Lane, et al., Archaeological Inventory of County Cork, Volume 4: North Cork. Parts 1 and 2 (Dublin 2000): Part 1 pp. 535-6.
OS 17:6:3 (415,382) 'Kilcolman Castle (in Ruins)'
(1937) OD 300-400 15808, 11130
---
Tower House and Bawn On sloping ground, overlooking Kilcolman bog to S. Rectangular tower (8m E-W; 7.8m N-S) with added garderobe tower (3m E-W; 1m N-S) projecting from E end of S wall (see plan Cotter 1994, 91-6). Most of structure now stands only to 2nd-floor level, but S wall and SE corner survive to 3rd floor. Extensively renovated in 1850s (Newman Johnson 1990, 420). External facing-stones of W wall robbed out, exposing rubble core of wall and outline of internal vault.
Entrance via rebuilt ground-floor doorway in E wall, leading into short passage which gives access straight through to ground-floor chamber. Doorway in S wall of passage gives access to spiral stairs leading to 2nd-floor chamber.

Ground-floor chamber (5.8m E-W; 3.8m N-S) lit by rebuilt ope with straight sides in N wall; light missing. Inserted doorway in S wall with straight E level on E side. First floor, directly covered by vault (long axis E-W), is lit by lintelled slit window in S wall; access probably through wooden floor. At 2nd-floor level pointed-arch door leads from stairs to main chamber (c. 7m E-W; c. 5.2m N-S), which has concrete floor. Only S wall survives, with wide segmental-arched window embrasure with stone seats, and single cusped ogee-headed light. In SE corner of chamber pointed-arch door leads into small lobby from which spiral stairs rise to upper levels, and doorway leads S to garderobe chamber. Latter lit by lintelled slit window in S and W walls.
At 3rd-floor level is garderobe chamber (2m E-W; 1.8m N-S), entered from stairs via collapsed doorway; lit by lintelled slit windows in E and S walls; slab over garderobe chute is upturned window sill.
Traces of bawn wall survive, enclosing area c. 50m N-S, 35m E-W (see plan, Cotter 1994, 93); stretch of wall (L c. 30m; H c. 1m) begins 4m S of SE corner of tower house, and extends E for c. 30m; corner tower (3m x 3m) at E end with traces of garderobe chute on E side; from corner tower low grass-covered ridge extends N for c. 50m, to outline of possible second rectangular corner tower.
Recent excavations by Dr Eric Klingelhofer uncovered remains of latter tower; evidence of structure attached to SE corner of tower house, identified by excavator as Elizabethan 'parlour'; rectangular structure to E along S bawn wall identified as medieval hall (Klingelhofer 1996, 7-8; 1997, 13-14).
Castle of the Earl of Desmond, who acquired Kilcolman from Barrys in 1430 (Nicholls 1993, 190); granted to Edmund Spenser in 1590 (Grove White 1905-25, vol. 3, 264); Spenser ousted and castle burned in 1598 (ibid., 267). Described in 1750 as being 'now almost level with the ground' (Smith 1750, vol. 1, 333).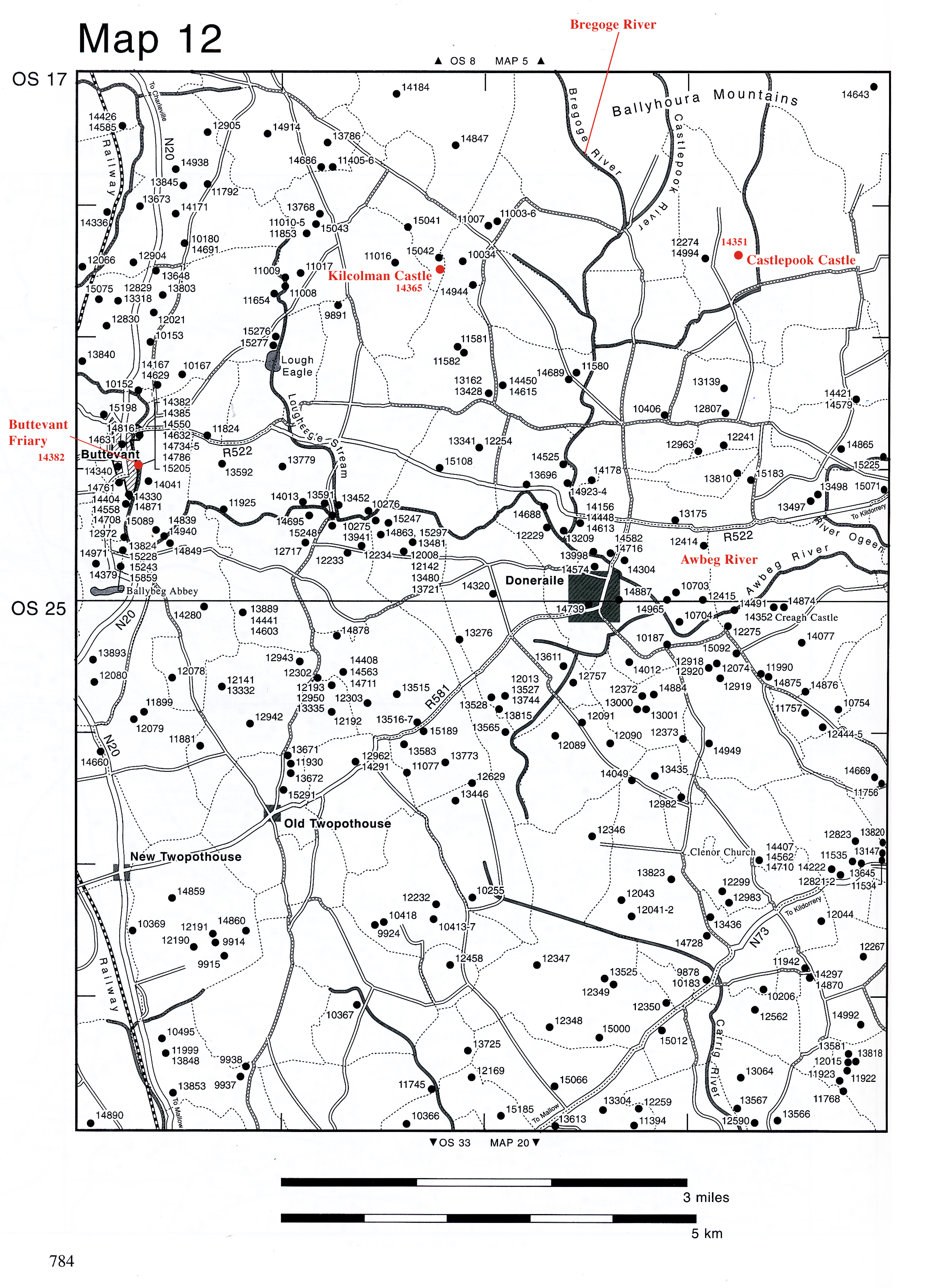 ---
Key:
This map shows features of geographical and archaeological interest (from different historical periods) in the vicinity of Kilcolman Castle. Features are marked with numbers. Highlighted in red are
14365 Kilcolman Castle
14351 Castlepook Castle
14382 Buttevant Abbey
Two streams mentioned in Spenser's poetry and also highlighted in red are
Bregoge River
Awbeg River
In the immediate vicinity of Kilcolman Castle are
15041, 15042 and 15043: lime kilns (post-medieval)
14944: dairy (post-medieval)
14847: Ballinvonear House (post-medieval)
13428: possible ring-fort with possible souterrain (i.e., man-made underground passage)
13162: possible ringfort with possible souterrain
11582: fulacht fiadh (i.e., a prehistoric cooking pit)
11581: fulacht fiadh
11017: fulacht fiadh
11016: fulacht fiadh
11007: fulacht fiadh
11003-6: four fulacht fiadh
10034: standing stone
9891: standing stone